Visia Skin Analysis
The VISIA skin analysis is a non-invasive technology that scans your skin— looking at its strengths and weaknesses — and producing an assessment of your skin's health.
The VISIA scan measures: Porphyrins (evidence of bacteria in pores), skin pigmentation, pore size & UV spots, sun damage, texture & wrinkles
Book An Appointment Today
Evaluating Your Visia Results
Visia Evaluation

Your VISIA results are compared to 2,000 of your peers of the same age and skin color, and rates your skin age vs. actual age.

Recommendations

With this assessment, we have a baseline of your skin's health, and you'll get recommendations for skincare programs. Use the Visia to objectively measure your progress going forward.

Imagine the Change

VISIA can also be used to simulate aging and repair, seeing what you would look like in the future with or without filler and neurotoxin treatments.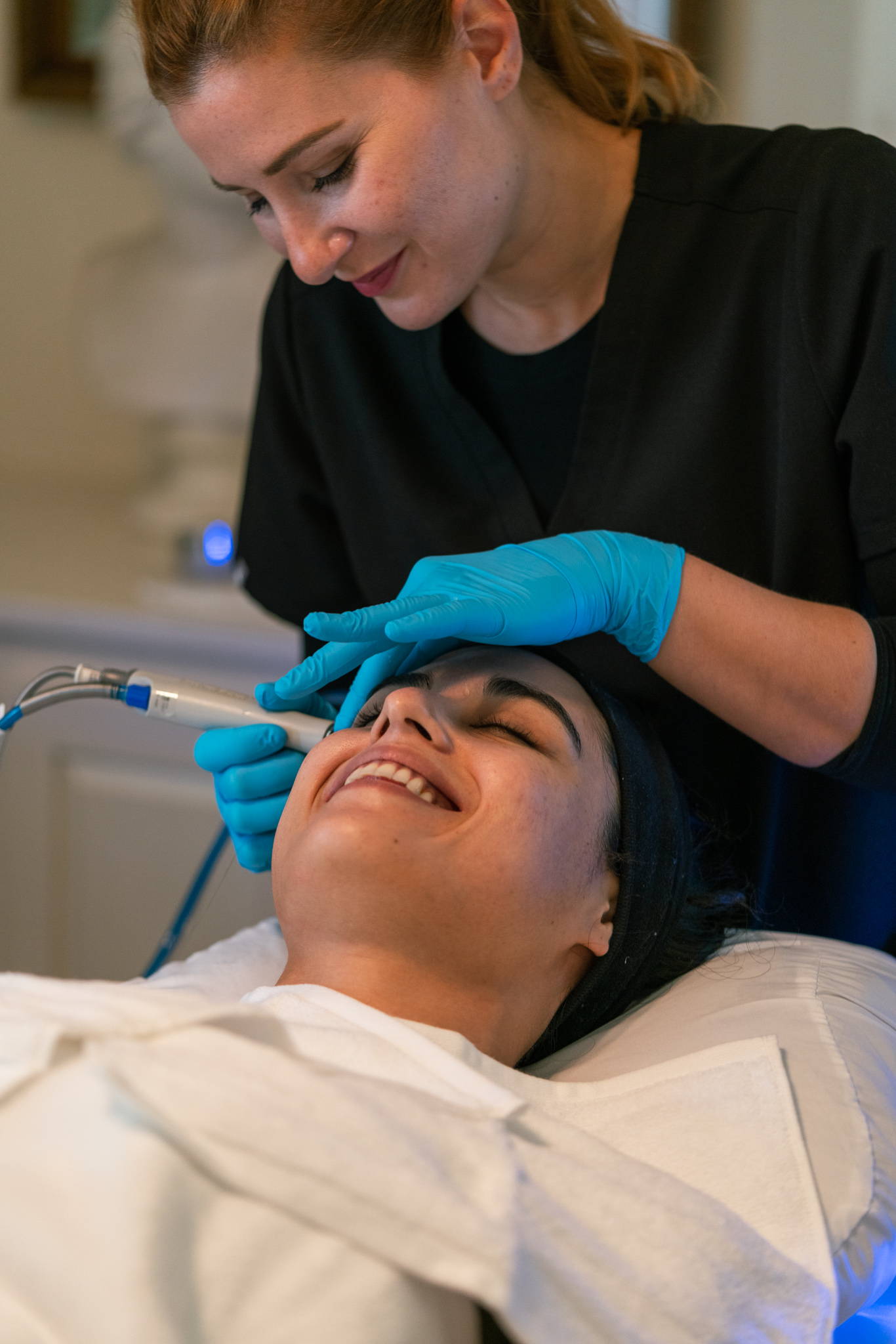 Medical Grade Hydrafacial
The Hydrafacial MD is a medical-grade facial treatment using vortex extraction of surface dead skin, blackhead plugs, and dirt/pollution buildup, followed by infusion of therapeutic and rejuvenating serums.

Rapidly effective, this treatment combines rejuvenating, calming, and hydrating infusions with exfoliation to give the skin a buffed glow that produces an "immediate" beautification treatment.
This facial is used for all sorts of skin conditions, including acne, rosacea, dull/sun damaged skin, dry skin, and pigmented skin. Patients will typically return every 1-3 months.
Hydrafacial Collection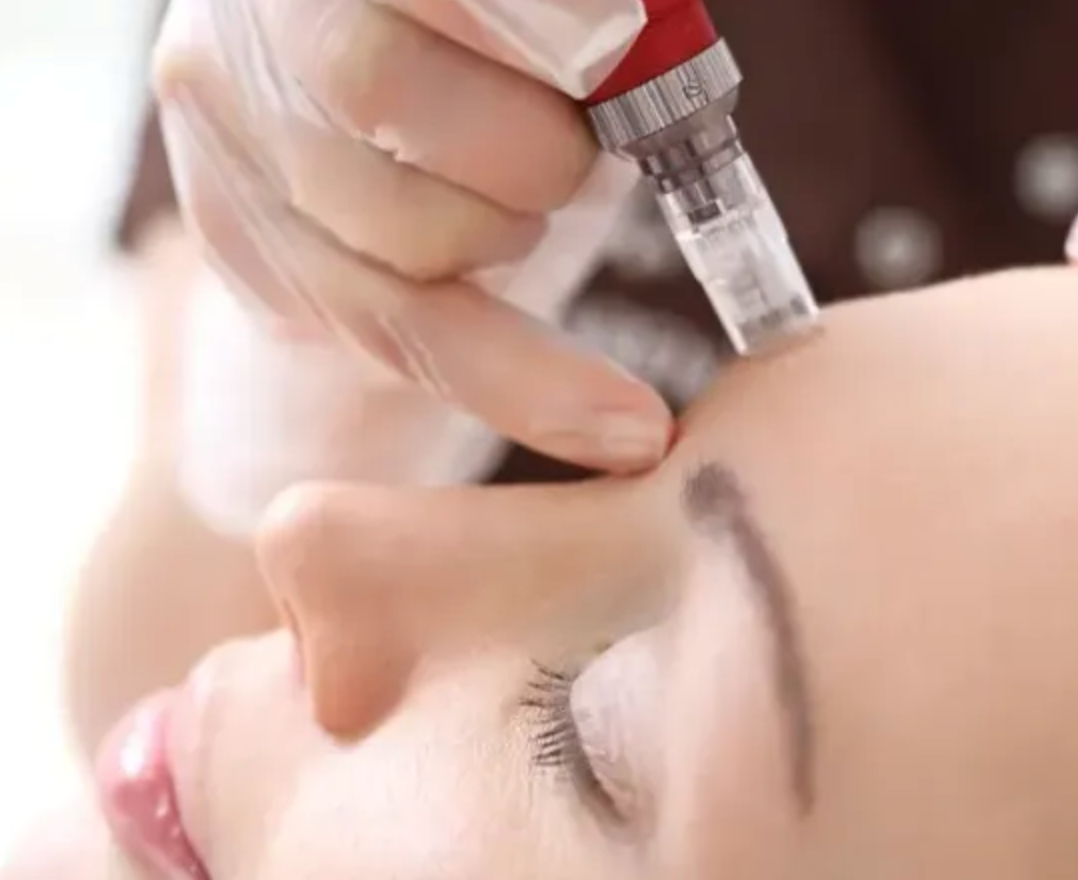 Medical Microneedling
This unique combination of modalities painlessly and effectively rejuvenates at all levels of skin: stratum corneum, epidermis, and upper dermis.
Medical Microneedling FAQ's
How Does It Work?

Microneedling creates precisely designed microscopic "punctures" into this protective barrier. This allows our specially formulated solutions of collagen-stimulating and brightening molecules to penetrate the skin and dramatically enhance skin rejuvenation, scar repair, and enhanced skin health.  

Treatment Procedure

We begin with the application of topical anesthetic to make the procedure painless. Followed by a layer of our specially formulated "skin fertilizer" (a healing mixture of antioxidants, hyaluronic acid, and collagen inducing vitamins).

Another layer of healing and rejuvenating "fertilizer" is applied and then we create a hydrating alginate mask to enhance the penetration of product to the deepest layers of skin.

What Is It Best For?

Electric microneedling is particularly effective for acne and other scarring conditions, wrinkles, rosacea, sun damage, poor skin tone, lax skin, and pigmentation. This powerful skin treatment is suitable for the face, and many other surface areas, including neck, chest, hands, arms, bellies, scalp, etc.

Microneedling is markedly safer, and more effective, than deep chemical peels and laser resurfacing.
Neurotoxins aka Botox
The most common cosmetic procedure in the world. Nearly painless, and highly effective, this treatment relaxes muscles causing wrinkles (and more) and can erase years within a few short days!

When properly applied, neurotoxins can smooth the forehead, lift the brow and open the eye space, ease TMJ symptoms, help headaches, treat excessive sweating, balance facial asymmetry, shrink pores, tighten jawline, repair jowls, tighten the neck, and SO much more.

There is no downtime; results are seen in 2-5 days and last for 3-6 months on average. Most patients follow a regular schedule of re-treatments as the product wears off, as part of their rejuvenation maintenance program.
Neurotoxin Collection
Injectables | Non-Surgical Facelift
Touted as the "non-surgical facelift," filler treatments are rapidly replacing or delaying the need for face or neck lifts! The results of artfully applied filler can be seen immediately, providing a natural youthful restoration of the face, without the inherent risk, downtime or cost of invasive surgery. What's more, the use of biostimulatory fillers, which actually stimulate your body to recreate its own collagen, leads to long lasting, natural volume recovery.
Face shape is altered by the loss of bone, fat, muscle, and collagen, which wear down from years of exposure to sun and visible light. These structural losses can contribute to natural genetic tendencies to hollows, sagging, or disproportionalities.
Combo Facials
Dr. Kenner's deep knowledge of skin biology, combined with her scientific way of "always looking for better ways", has led to the creation of several unique combinations of SkinHappy treatments. 
Combination Facials Collection
SkinHappy Combo Facial Types
1-2 Rejuvenating Facial

This is a combination of medical microneedling and Hydrafacial MD. The procedure begins with a medical microneedling procedure, to enhance penetration of nourishing ingredients to stimulate skin healing and growth, followed 5-7 days later by a Hydrafacial treatment, to speed up removal of the shedding old skin, leaving a beautifully glowing and rejuvenated surface! Super easy, super healing, and super beautiful.

1-2-3 Rejuvenating Facial

A combination of medical microneedling, chemical peel, and Hydrafacial MD. The medical microneedling procedure enhances penetration of nourishing ingredients to stimulate skin healing and growth, followed by the application of rejuvenating chemical acids. This provides skin-renewal stimulation at the deeper areas of skin in greatest need for repair and renewal.  For the final step, 5-7 days later, you will receive a Hydrafacial treatment, to speed up removal of the shedding old skin, and leave a beautifully glowing and rejuvenated surface.

The Microneedling with Infusion Facial

This special offering combines the use of medical microneedling with neurotoxin. By introducing microdroplets of dilute neurotoxin into skin immediately after microneedling, you can experience a shrinkage of the size of facial pores, and a reduction in excess facial redness which will last for many months.
Visit the Discovery Center
Come explore the fascinating world of skin health. The SkinHappy(R) Discovery Center offers visitors a chance to laugh and learn about skin biology, the history of skin conditions, the skin and sun, and explore your own skin.
Get behind the lens of a UV Camera, see how the sun sees you.
Watch state-of-the-art medical animation and learn about how acne develops or control the aging process of a face over time.
Learn about Hollywood's love/hate relationship with skin disorders and learn the truth about popular villains.
Get a free Visia Skin Analysis, a state-of-the-art system that objectively analyzes your skin.
Browse the SkinHappy store which offers unique, cutting-edge skin protection, repair, and renewal products.
Treat yourself to a medical grade Hydrafacial MD or microneedling facial. Or even receive neurotoxin and filler in our treatment room… and leave younger than when you came in!
An immersive, interactive, educational experience, the SkinHappy Discovery Center is designed to help people of all ages see and understand the wonder of skin.