Regular price
Sale price
$67.00 USD
Unit price
per
Sale
Sold out
Acne Body Foam Rx is used to treat acne and acne scars, particularly acne occurring on the chest, back, and shoulders.
How It Works: Acne is a complicated disease, and is best treated with multiple product ingredients from different categories working together to both tame the disease as well as minimize scarring and post inflammatory hyperpigmentation.  the Acne Body Foam product combines Clindamycin, Tretinoin, and Niacinamide in an easy to apply foam formulation to get acne cured faster, and minimize acne scarring.
How To Use: Use nightly, after a period of adjustment. To adjust skin to the retinoid (tretinoin) in Acne Body Foam Rx, use once or twice a week initially, and avoid applying to skin folds. As tolerance builds, use more frequently, with the goal being to use this product every night.
Use With: Other acne skin products such as Gentle Anti-Inflammatory Wash XL.
This product falls into the PROTECT layer of the SkinHappy Pyramid, see below.
*All sales are final. No returns. If you have questions, please email info@skinhappy.com.
View full details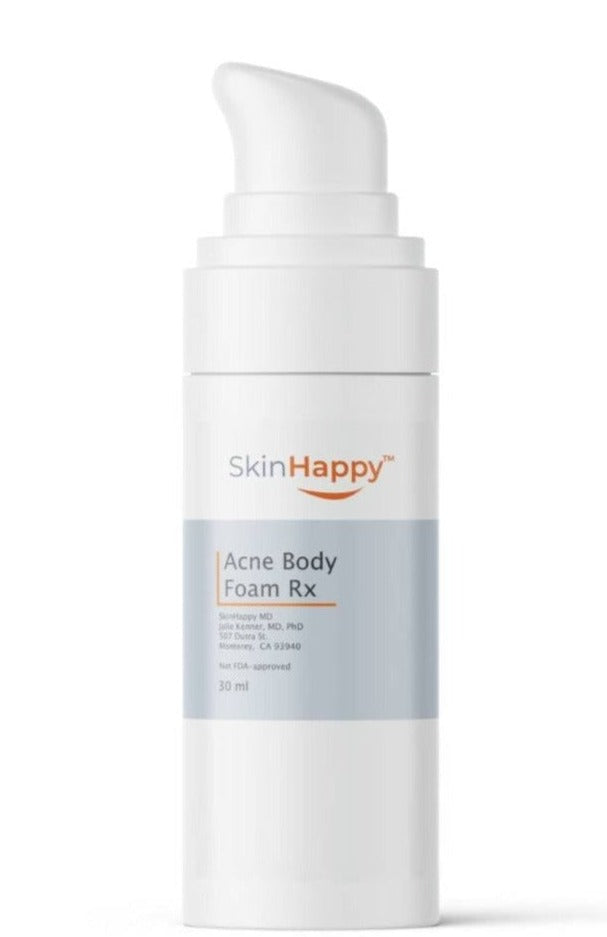 Protect, Renew, Repair: A complete skincare program includes all three levels.
Begin with PROTECTing your skin using broad-spectrum sun protection, and a retinoid, the foundation of good skincare. 
Use vitamin antioxidants and alpha hydroxyl acids to REPAIR your skin.  Top off with products that RENEW your skin, growth factors, peptides and anti-oxidants.