Medical Microneedling - Today's Best Rejuvenation and Scar Repair Treatment!
---
So, What Is Microneedling? Microneedling is a popular cosmetic procedure in dermatology to help with the most stubborn of skin concerns. This can include acne scarring, lines and wrinkles, stretch marks and so much more. Not only is this treatment safe for almost everyone, it is known to dramatically transform the skin, with minimal downtime. In this article we are going to reveal:
---
HOW DOES MICRONEEDLING WORK?
Microneedling works its magic in two ways. First, needling creates precise microscopic openings into skin. This "percolation" of the skin allows our special "fertilizer" mixture of antioxidants and collagen-stimulating molecules to penetrate the skin deeply and dramatically to enhance collagen and elastin production, scar repair, skin turnover, and create general improved skin health. Second, the needles "tickle" and "wake up" the deeper part of skin, turning on immune cells, releasing a small amount of blood from the dermal blood vessels which contain plasma rich plasma (PRP) and stimulating fibroblasts and other cells to "do our bidding"! This process turns on many of the processes that the sun has turned off, and not only stimulates the creation of new building blocks making up our skin surface, such as collagen and elastin, but can help remove old damaged and unhealthy aspects of our skin such as precancerous areas or excessive pigment laydown. The combined outcome is tighter, healthier, and more beautiful skin.
---
---
At SkinHappy, we finish your microneedling session with an alginate mask, which further increases the absorption of our skin-rejuvenating products into the freshly needled skin. What's great about the alginate mask is that it has exothermic properties, meaning it pulls the heat (as a result of the immune system's inflammatory response to the micro injuries) out of your skin.
---
What is microneedling good for?
Microneedling is used to treat a multitude of skin concerns. It is indicated for acne and other scarring conditions, wrinkles, rosacea, sun damage, poor skin tone, skin laxity, and unwanted pigmentation.
Different types of microneedling
There are a few different types of microneedling:
Traditional method of microneedling
This method encourages collagen growth through controlled micro-trauma to the skin. This type of stress to the skin forces cells to switch to healing mode, repair damaged proteins and increase collagen and elastin production.
PRP (platelet-rich plasma) microneedling
This therapy is designed to reverse hair loss in men and women as well as improve the healing properties of the skin naturally. It activates the hair follicles, making it a strong hair regrowth technique.
Radio frequency microneedling
A strong therapy that activates skin's laten rejuvenation potential via two independent channels. Just as the traditional method of microneedling, the device causes microscopic injuries to the skin while producing radiofrequency energy. That energy is delivering those channels deep into the dermal layer of the skin. This is to encourage extra collagen production.
---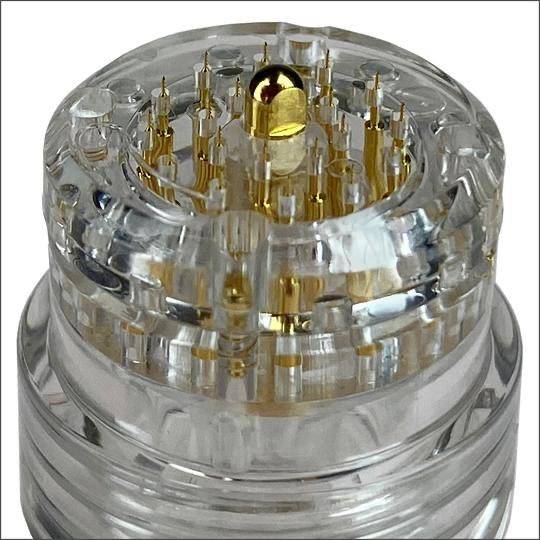 There are also many different types of microneedling devices and hand pieces. These different types of microneedling tools essentially do the same thing, but the results can be different depending on the device that is used. At SkinHappy, we perform the traditional method of microneedling and we use a device called the Collagen P.I.N. This pen is composed of 36 tiny needles and is able to penetrate the skin at different levels with different speeds.
---
Areas of the body that can be microneedled
The treatment can be performed on the face as well as other areas of the body. For the face, this treatment can help with a multitude of skin concerns. Microneedling can help with acne scarring and help minimize the appearance of pore size and skin texture. For others, microneedling can help clients that are dealing with fine lines, dullness and unwanted pigmentation on the face, hands, chest, or arms.
Other areas such as the neck and chest are great candidates for a microneedling treatment. Sometimes these areas see the sun just as much as the face. Sun damage to the neck and the chest cause the skin to become thin, wrinkled, and crepey, mottled and excessive pigmentation laydown. Microneedling these areas will help induce collagen formation, to tighten the skin for a more youthful appearance, as well as get rid of any unwanted brown spots caused by sun damage.
We can also treat hands with microneedling. As we age, the damage from the sun can cause the skin on our hands to become crepey. The sun can also produce unwanted pigmentation on our hands. With the help of microneedling, the creepiness and unwanted pigmentation will diminish, leaving skin with and even look and feel.
Just as our hands get crepey from sun damage, so do our arms! Microneedling this area can help with crepey skin, but also help get rid of the stubborn stretch marks that may form over time.
The abdomen is another place that can benefit from microneedling. With the stomach, microneedling can treat stretch marks and unwanted crepey skin. Stretch marks and crepey skin can be a sensitive topic for a lot of people and can be difficult to treat. With microneedling, these unwanted concerns can be diminished if patients stick to a consistent microneedling treatment plan, in addition to a well-designed skincare program.
Lastly, microneedling can also be performed on the lines around the lips. Microneedling the lips helps promote collagen regrowth and makes the lips look more plump and full.
---
How Does Microneedling Work vs. Other Treatments?
One of the key benefits of the microneedling process is that it is safer and more effective than deep chemical peels and laser resurfacing. Another benefit is the rapid healing. Downtimes with chemical peels and laser can be both long and uncomfortable- not so with needling!
With medical microneedling, patients enjoy better results with increased safety and less downtime. Now THAT'S the kind of rejuvenation we all want!
---
What to Expect after Microneedling
Generally, you can expect a few days of redness, dryness and light peeling. If you've ever experienced a mild sunburn, you can equate it to that. You can also expect some discomfort after the numbing dies down from the treatment.
After the first day, you will notice a tightness and will feel the skin become dry.. After a few days, the dryness will turn into a full peel. Typically after the 4th or 5th day the peeling will subside and will return back to normal.
It is hard to determine how everyone's skin will look after their first microneedling treatment is fully healed. Some see amazing results just after the first session, others may not see a dramatic difference initially, and will need more sessions to see a noticeable change. It all varies on the skin concern and the person.
---
How is SkinHappy's approach to Microneedling Different?
At SkinHappy, we have developed a system of treating the patient on the outside as well as on the inside. After we treat you, we send you home with product recommendations and detailed at home care instructions to make sure you are well equipped on your own. We also keep track of your progress through our Patient Portal. This is where you will upload your picture every week (or as often as you'd like) to track your progress through the healing process. In our Patient Portal, you will also find daily reflections, and words of encouragement. We at SkinHappy understand the toll some of these conditions can have on your mental health- and want to help you through this. So you feel beautiful, on the outside and inside!
---
FAQ
Does microneedling work for hair?
Yes! Microneedling can be used to treat hair loss and balding. "Microneedling is a safe and a promising tool in hair stimulation and also is useful to treat hair loss refractory to Minoxidil therapy" (Dhurat, 2013). The process of microneedling for hair loss is called PRP (platelet-rich plasma). This involves taking a person's own is drawn, processed and then injected into the scalp, this normally takes a few sessions. Alternatively, creating a small amount of bleeding with the needling procedure itself, can release your own natural PRP, and act as a growth factor locally to induce rejuvenation and regrowth.
Does at home microneedling work?
You will not get the same results with at home microneedling as you would in a professional setting. In a clinic or medspa, you are getting microneedling done with a professional, using professional products. At home, you are not getting the same quality treatment. Something to also keep in mind is microneedling is the puncturing of the skin. This type of treatment needs to be taken very seriously when it comes to the cleaning of blood and sterilizing or discarding of the needles.
Does microneedling work for beard growth?
Microneedling can also help with beard growth. Just as it helps with hair regrowth on the scalp, the microneedling device can help with hair regrowth on the beard area. This is done in a safe and effective way by helping induce stem cells in the hair follicles that may lead to hair growth (Cherney, 2020).
Does microneedling work for acne scars?
Microneedling does work for acne scars. Not only does the treatment help the stratum corneum (the very first layer of the skin), but it also works deep into the upper dermis, to break down the scar tissues caused by severe acne.
Does microneedling work for wrinkles?
A: Microneedling does work for wrinkles. Just as microneedling works for acne scarring, it works the same way for treating wrinkles. The elasticity of and collagen of the skin weakens as we age. Microneedling works through the stratum corneum and deep down to the upper dermis. Throughout these layers is where the collagen resides. Microneedling is a form of collagen induction and will help bring the collagen and elastin back to life.
Resources:
Cherney, K. C. (2020). Can Scalp Microneedling Regrow Your Hair? Healthline. https://www.healthline.com/health/prp-for-hair-loss
Dhurat, R., Sukesh, M., Avhad, G., Dandale, A., Pal, A., & Pund, P. (2013). A randomized evaluator blinded study of effect of microneedling in androgenetic alopecia: a pilot study. International journal of trichology, 5(1), 6–11. https://doi.org/10.4103/0974-7753.114700